Rates & Services
We offer a range of different Services. Here are our current rates and a full description below: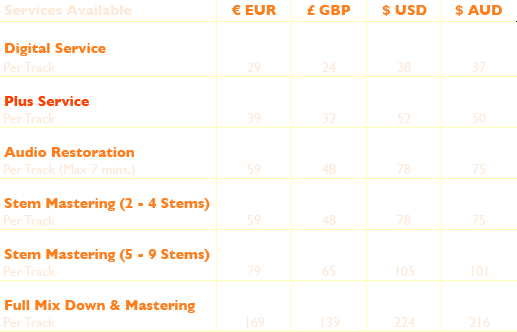 N.B. Rates shown may vary according to current exchange rates. Please use XE Currency Converter for exact and current currency conversions and for other currencies.
The details of each of our services...

Digital Service: The Digital Mastering Service is aimed at those of you who want a high quality audio master on a slightly tighter budget. We still work hard to make your music sound as good as it can be but with this service we use the best of the digital plugins available for mastering and we do not offer revisions. This is a common choice if you are doing a demo or even for a lot of labels and producers doing regular dance music releases. The end result is still of very high release worthy quality but it is a little bit less work for us and consequently costs you a little bit less!

Plus Service: The Plus Mastering Service is our service offering full hardware use and revisions. It is the full treatment and is recommended for most customers. Using this service we will happily make a few changes at your request.


Audio Restoration: Audio Restoration is a service oferred to clean up or repair a piece of audio or a DJ Mix that has problems. Some of the things that we can do include: Removing clicks and pops, removing problem noises or high background noise. We have included an example of a DJ mix that we repaired below... It is quite amazing what can be achieved with todays technology so it just may be the service that saves your audio from the trash bin!!!
Please download and listen to our example below to hear what is possible....
In this example the audio was recorded too hot out of the DJ Mixer and consequently there is a lot of digital clipping.... Using Audio Restoration techniques, we were able to resurrect the entire mix! It is a time consuming process but as you can hear - it can be done!
This is just a common industry example. Have you ever been disappointed after recording and realised that the levels were too hot? Usually it happens on the best takes or the best DJ sets.
We can also remove noise, hiss, buzz and hum, eliminate clicks and crackle, restore clipped audio, select and suppress unwanted sounds, resynthesize missing audio and much more...


Stem Mastering (2 - 4 Stems): Stem Mastering is half way between a stereo 2 track master and a full mix down. It is quite common for mixing engineers to send mastering engineers the main parts of a track bounced into separate stems for mastering. The main parts are a bit like groups or the main elements of the track. For example the main stems may be Drums, Bass, Synths & Guitars and Vocals. Or, it could even be just Drums & Bass together as one stem and the other elements (Vocals, Synths, Guitars, FX, etc.) as another stem. 4 Stems is generally adequate and is more common than 2 but there is no rule here. The idea is that you give your mastering engineer more flexibility & control over the total sound and more options to creatively adjust the complete track.
Stems should be sent as Stereo WAV files. Usually 44.1 kHz and 24 Bit. Clearly label them and ZIP them together as a single compressed file.
If your track is mixed 'perfectly' then stem mastering is certainly not as valuable but more often than not, mixes are sent to us with obvious problems and flaws. A stem master can be a good way to alleviate this problem and in the end give you a better result.
As this process is more complex and time consuming for us, we do charge a higher rate per track.
It is often worth it but is entirely up to you.

Stem Mastering (5 - 9 Stems): This service is no different from the 2-4 Stems Stem Mastering service only this service allows for extra stems. You may send us a maximum of 9 stems. Obviously, the more Stems that we receive, the more work we do to get everything sitting right, so this service is charged at a slightly higher rate.


Full Mix Down & Mastering: This service includes a complete mix down of your project, followed by the mastering. In this case, you send us each track of your project as WAV or AIFF's and all at the same length. We will provide a professional mix down and employ advanced mix down techniques & some of the very best processing to get your song or track sounding tight and professional. Perhaps the you are a great song writer but the idea of mixing down is still a bit of a learning curve for you. You may wish to hand it ot the pro's and concentrate on the content & the writing?

We have completed this service for some high profile artists such as Paul Hartnoll from Orbital including album title tracks so rest assured that we have the necessary skills to achieve excellent results.
Please bear in mind, it is a lot of work and can take some ongoing communication to reach an agreed level of satisfaction since a mix down is still a very influential part of the whole creative process.

For payments via Bank Transfer , please contact us directly via Email: info@zeitgeistmastering.com
**Please be aware that work will not commence until payments are received. This can take up to 5 business days but takes on average around 3 days.