About Us

THE STUDIO
Our custom built mastering suite focuses on the latest in acoustic design & offers some of the best monitoring, editing and processing equipment available. Diffusers, Bass traps, Helmholtz resonators, appropriately placed Acoustic foam (Akustik Schaumstoff), careful Monitor placement and complex room analysis methods are all employed to ensure that the sounds monitored are as true as possible.

THE ENGINEEERS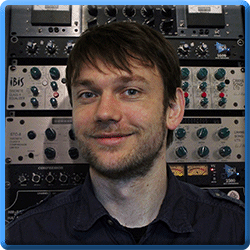 The Head Engineer at Zeitgeist Mastering - Nicholas D'Ombrain - has over 17 years experience in the industry & in this time he has worked for major production studios around the globe including Universal & EMI, as well as being responsible for several International independent record labels. Nicholas is connected to the well-renowned Finyl Tweek studios in London and several of the big guns around Berlin such as Manmade Mastering, so he certainly knows his way around studios and the gear within!
Starting as a Sound and Lighting tech for his father's Theatre way back in 1996, the seed for his technology based career was planted very early on. In 2002, Nicholas completed an Advanced Diploma in Sound Engineering at RMIT in Melbourne and, during this time, he worked for RMITV Channel 31 TV as their Chief Sound Engineer and Station Manager. Soon after, he gained employment at Rutledge Audio Visual Engineering, where he learnt the ins and outs of studio builds, acoustics and major installations. After 4 years of combining this with his own work as a studio technician and producer, Nicholas decided to move to London to gain real industry experience and worked alongside studios such as LOT49 Recordings / Vibrate Studios. In addition, he worked as a Sound Engineer at gigs and events all over the U.K. to help fund his hardware addiction. Eventually his passion for Electronic music led him to the vibrant place now considered home – Berlin, where Mastering Audio for local record labels became the major focus as he took pointers from some of the masters of the industry.
Nicholas has an intense passion for getting the best possible results and is keen to make you happy by maintaining a sympathetic and understanding approach. His experience and client list is now extensive and his dedication to the art is genuine. Nicholas currently runs a studio in Berlin and also keeps one in rural Australia, where he grew up.



EQUIPMENT / GEAR LIST:
Monitoring

Converters

Weiss Saracon

Lynx Aurora 8 A-D/D-A

Yamaha N8
Speakers

Roland R&P Full Range Speakers (1979)

Focal CMS 65 Studio Monitors & Sub

KRK Systems V6 Series 2

KRK RP10s powered subwoofer

M-audio SBX10 Subwoofer

Auratones
Headphones

Beyerdynamic DT 770 Pro

Senheiser HD25 II

AKG K141
Cables

Vovox Link Cables

Audio Editing and Processing

Analogue Hardware

SPL Kultube Stereo Compressor

Aphex 204 Aural Exciter

Chilton CM2 Parametric EQ modules

Aphex 9000 Series Modular Audio Rack System

2 x Aphex 9301A Compellor Modules

2 x Aphex 9621 Expander / Gate / Ducker Modules

2 x Aphex 9721 Dominator II Multiband Peak Limiter Modules

SSL Rack with 2 SSL 502 / Brown Series EQ's

Lexicon MX200 Effects Unit

API 2500 Stereo Compressor

Revox A77 15ips Analogue Tape Recorder
Digital Audio Workstations

Logic Pro 9, Logic Pro X

Steinberg Wavelab 7

Steinberg Cubase 4

Pro Tools M-Powered 8

Ableton Live 9

MAGIX Samplitude Pro

Audio Restoration Tools
Digital Software

All of the very best Plugins by UAD, Waves, Abbey Road, Brainworx, Cytomic, Flux, iZotope, Kush Audio, ArtsAcoustic, Nomad Factory, PSP, Chandler, Sonnox, Sonalksis, Sonoris, Waves, Voxengo, Slate Digital, Softube, Acustica, iZotope, TC Electronic, Focusrite, FabFilter, Meldaproduction & more!