Frequently Asked Questions

Why should I have my material professionally mastered / Can't I just do it myself?

Can I get a no obligation free trial master before paying?

What file format should my track be in?

Which media formats do you deliver?

What is Premastering?

What can I expect from Audio Mastering?

What if I don't like the Mastering / how it sounds?

What about dither?

Should I normalise my track?

How much headroom should I leave?

How long will it take for my track to be mastered?

Do you offer multitrack or Stem Mastering?

Is it possible to get a complete Track Mix Down?

What is Audio Restoration?

What is your Cancellation/Refund Policy?

Can you provide me with a DDP Master for a CD Pressing plant?

Can you also Master for Vinyl?

Are my songs safe against third-parties access?

How do I pay?

What are the Loudness Wars?

Can I learn how to master audio myself?

---

What is Mastering?
Mastering is the process of making audio as effective as it can be in the environment or environments that it is intended for (E.g. TV, Club, Hi-fi, Car, Computer Speakers, Internet). It is the final creative stage in the music recording process.
During the mastering process, adjustments are usually made in order to get the sound just right and balanced for greatest listener satisfaction and effect. A collection of songs or an album must be balanced in tone, body, volume and timing or space between them.
In short it is the process of polishing your audio so that it sounds as technically and sonically brilliant as possible using the best processing. If it is done right, your ears should not tire from certain frequencies.
---

Why should I have my material professionally mastered / Can't I just do it myself?
The answer to this question comes down to how much you care about the final result of your productions. A mastering engineer is trained to know what your audio needs and makes educated decisions on a daily basis to achieve industry proven and trusted results.
While it is possible today for you to get good results with software and to do it yourself, it is likely that a trained mastering engineer will use higher quality processing and will know much better how to get the most out of your sound. Mastering your own music is very risky and we strongly advise against it as it is very hard to maintain a critical approach since artists are often lost in their own material and loose their 'fresh ears'.
It is the final stage and therefore it really benefits from a neutral & experienced perspective. So, if you want your work to sound as good as possible, get it mastered professionally.
---

Can I get a no obligation free trial master before paying?
Yes, for sure! We understand that it can be a scary thing trusting us with your hard earned money and your music masterpieces but we are very confident that you will like our results. So, we do provide a sample mastering snippet for new customers free of charge. If you like our work, you can complete payment and receive the full track. To do this, go to our contact page and select 'Submit file for a FREE TRIAL MASTER' in the drop down menu titled: 'What is the nature of your inquiry?'
It's that simple and if you are not impressed, you don't pay!
---

What file format should my track be in?
This is perhaps the most common question for people submitting their tracks for mastering. The best format for you to export or bounce in, is the format that your project is in.
If you use 24 Bit samples or if you record at 24 Bit, then you should bounce or export also at 24 Bit.
If you are working at 32 Bit, then you should bounce at 32 Bit. Please note that Logic does not support 32 Bit floating point but Ableton Live, Cubase and Pro Tools certainly do.
44.1kHz is the minimum sample rate required for mastering. 16 Bit wordlength is also accepted but we strongly recommend not working lower than 24 Bit as there is a noticeable difference in quality.
The following file formats are supported by Zeitgeist Mastering:
WAV, AIFF, au, bwf, sd2, caf, paf, mat, raw, dsdiff, FLAC, Ogg/Vorbis formats are accepted.

44.1kHz Minimum Sample Rate (All standard sampling rates between 44.1kHz and 384kHz are supported, including DXD and DSD)

24 Bit wordlength is recommended but 16/20/24/32 bit fixed point, 32/64 IEEE float, DSD are all accepted.

44.1 kHz 24 Bit is the most common and is for the most part absolutely adequate!
Strictly no Mp3's!!!
---

Which media formats do you deliver?
As a standard, we deliver 16 bit / 44.1 kHz WAV files for CD mastering or digital release. We also include a high quality 320 kbps Mp3 as a standard. In our order form you can also request a DDP or Red Book Audio CD (PMCD) file set if you intend to have a CD's burnt at a pressing plant. Likewise you can request a 24 bit WAV file if you intend to burn to DVD or perhaps have vinyl pressed. Please do not request these files from us if you are not certain that you need them as it is a lot of extra work!
---

What is Premastering?
Premastering is the process of getting your track or song ready for Mastering. It needs to be done carefully so that what you send us has the best possible chance of becoming a great sounding final master. Watch our Premastering Video.
---

What can I expect from Audio Mastering?
Mastering will make a good mix down sound great and a great mix down sound amazing but it is important not to expect miracles. If you submit something recorded and mixed in a garage using budget preamps and microphones then do not expect to sound like U2 or Tool. Expect to sound like a trashy garage band with a bit of balance and polish.
We promise that we will treat each track that we receive from you with great care and our aim is also to get the best out of it. We will analyse each track carefully and apply educated processing according to what we think is best and what we think you want. In rare situations, this can take some trial and error but it is OK, we expect this.
It is the little things that count… If you like percentages, you can expect a 10 to 20% increase in overall transparency and quality. Please download and listen to some of our examples.
---

What if I don't like the Mastering / how it sounds?
Although fairly unlikely, if you are not satisfied, please simply contact us and 9 times out of 10 we can work something out.
If there is a problem due to an error on our side, then naturally we will endeavour to fix it immediately free of charge.
If you require multiple changes and have selected our digital service, extra charges may be incurred but we don't mind making a few changes within reason. The plus service allows for modifications and changes.
Generally we get it right but sometimes with new clients it can take us a little time to understand exactly what sound is desired. We are here to help and value having satisfying results so as long as your requests are reasonable, we will do our absolute best!
---

What about dither?
Leave the dither to us! Dither is a process that should be applied at the very final stage before converting down to 16 Bit depth for CD Format. Dither should only ever be applied once and is an important part of the mastering process. It is better to work in the highest bit depth possible until this very final stage, so that adjustments made to your audio will be more accurate. So, if you stay in the format that you recorded in, or that your project is in, you do not need to consider applying dither in any case.
---

Should I normalise my track?
No, absolutely not! Normalising will bring the peak level of your audio up to 0 dB and this removes or eliminates the necessary headroom that we need to apply our wonderful mastering processing.
---

How much headroom should I leave?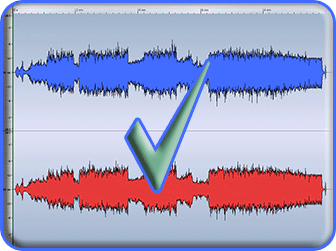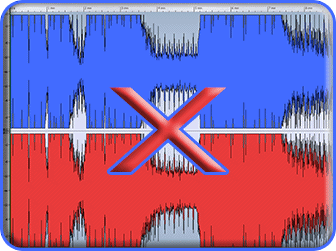 You should send us a file that has a peak no higher than -3 dB. As a guide it should peak between -3 and about -6dB. Some headroom is essential for our high quality mastering processing to do its thing! For further details please watch our Premastering video or look at our knowledgebase section covering waveforms.

---

How long will it take for my track to be mastered?
Please allow 3 - 5 business days for your mastering to be completed. Sometimes it will be less depending on our workload but in general 3 days is about right. Obviously allow longer for album Mastering. If it is going to be much longer, your Mastering engineer will contact you by email and let you know.
---

Do you offer multitrack or Stem Mastering?
Yes, in fact, it is quite common for our current client base. Stem mastering gives us greater control over the end result and can be a great way to provide your mastering engineer with more flexible mastering options. If your track is mixed perfectly then stem mastering is certainly not as valuable, but more often than not, mixes are sent to us with obvious problems and flaws. A stem master can be a good way to alleviate this problem and in the end give you a better result.
As this process is more complex and time consuming for us, we do charge a higher rate per track.
It is often worth it, but it is entirely up to you.
---

Is it possible to get a complete Track Mix Down?
Yes, it is possible but is only recommended for those of you who are perhaps not so confident with the mix down process. It is a huge amount of work and can take a long time so this service incurs a much higher fee. We have mixed down some very high profile artists including album tracks from Paul Hartnoll (Orbital) but this option is not for everyone and can take a lot of back and forth work.
---

What is Audio Restoration?
If you have a file that is damaged by digital clipping or has a lot of background noise or hiss, we can restore it for you. You might be surprised with modern technology what is possible. Tracks or DJ sets that you thought were unsalvageable are bought back to life with our restoration processing. Please see our Rates and Services page for more details and a downloadable sample highlighting one of the commonly occuring industry mishaps.
---

What is your Cancellation/Refund Policy?
In compliance with EC regulations on distance selling over the internet, you have the following rights to cancel.
To cancel you must contact us either:
a. By phone at Zeitgeist Mastering, or
b. You must email the engineer who is due to master your music directly.
You must contact us either:
a. before we start work on your job, or
b. within seven working days of the contract starting.
The contract is assumed to have started the moment you have placed your order.
Once we have started work on your job, you may no longer cancel the contract.
---

Can you provide me with a DDP Master for a CD Pressing plant?
Yes, we can provide you with either a DDP file set or a Red Book Audio CD file set (PMCD). This is only useful if you are sending your final production master to a CD pressing plant and these are the industry standard formats. If this is the case, just tick the appropriate box in our order form.
---

Can you also Master for Vinyl?
Yes, we can. We do not provide a transfer to lacquer disc for vinyl manufacturing but we can submit you files mastered for vinyl production. Your vinyl pressing plants can then go ahead and make the Master Cut from the mastered files. Master Cuts are often done by the vinyl pressing plant but not always so please investigate this before ordering.
Mastering for vinyl does incur a 20% price increase payable after file delivery.
---

Are my songs safe against third-parties access?
Yes, all files have a 128-bit data encryption, the same level that banks use on the internet. So, you are pretty safe! No one should have access to you music but you and us! Rest assured that we will never use your material for any other purposes. We just want to make it sound great!
---

How do I pay?
We accept Paypal, Credit Card, Bank Transfer payments and of course cash. Simply fill out our order form and pay using your desired method. By default, you will be taken to a Paypal payment page when you submit your order. Here, you can easily pay with a credit card if you choose not to pay via Paypal or if you do not have a Paypal account.

For payments via Bank Transfer, please contact us directly via Email: info@zeitgeistmastering.com

Please note that if you are paying by Bank Transfer, work will not commence until payment is received and seen in our account. This can take up to 5 business days.

---

What are the Loudness Wars?
The 'Loudness Wars' is the term used by industry professionals that refers to the fact that music has become increasingly louder and louder over time since the beginning of digital CD releases in 1982. It is a real issue and has become somewhat out of control with some music having almost no natural dynamics at all and the RMS or average level being completely slammed or brick walled against the 0 dB ceiling that exists with all digital audio. It is the result of the major production studios competing with one another and always trying to outdo each other in level. But, the problem is, we have nowhere left to go… Music without dynamics is unnatural and painful on the ears so we need to pay attention to what has become of the Loudness Wars and start to think about what really matters… Loudness OR Dynamics, flow of intensity and primarily our ears…
People with untrained ears will often assume that louder always sounds better, which is part of the reason for the loudness wars. To demonstrate what has happened over the years, here is an image we prepared showing the change in waveform appearance…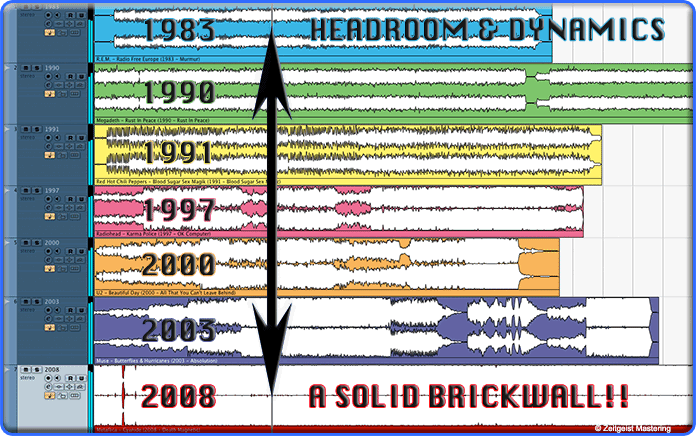 As you can see in this image, there is quite a shocking increase in waveform thickness from 1983 to 2008. The thicker the waveform and the closer to the top line of the track that it is, the louder it is and the less dynamics it has!! Or in the image, the less colour that you see, the less dynamics there are.
The following tracks have been used:
1983 - R.E.M. - Radio Free Europe (Murmur CD Album)
1990 - Megadeth - Rust in Peace (Rust in Peace CD Album)
1991 - Red Hot Chilli Peppers - Blood Sugar Sex Magik (Blood Sugar Sex Magik CD Album)
1997 - Radiohead - Karma Police (OK Computer CD Album)
2000 - U2 - Beautiful Day (All That You Can't Leave Behind CD Album)
2003 - Muse - Butterflies & Hurricanes (Absolution CD Album)
2008 - Metallica - Cyanide (Death Magnetic CD Album)
So, even with the heavy metal band - Megadeth, in 1990, we still valued natural dynamics and left more intact than we did with U2 in the year 2000. In 2008, Metallica made a statement by releasing one of the loudest albums ever made. It is a constant brick wall and really cannot get much louder. This album drew a lot of attention to the loudness wars as, interestingly, fans did not like it and claimed it sounded distorted and unnatural and also that the version on the popular game - Guitar Hero III - sounded a lot better. The game version did not have the same heavy limiting applied in the mastering stage. Mastering Engineer - Ted Jensen, came under strong criticism for his work and it did not go unnoticed with coverage from several international publications such as Rolling Stone, The Wall Street Journal, BBC Radio, Wired and The Guardian.
As a result of the loudness wars, in March 2010, mastering engineer Ian Shepherd organised a 'Dynamic Range Day' to raise awareness that dynamic music does in fact sound better. He gained support from industry bigs including Bob Ludwig and companies like SSL, Bowers & Wilkins and Shure.
So, the conclusion is that people do notice and that loudness is not always better!
---

Can I learn how to master audio myself?
Yes, if you are keen to learn the ins and outs of audio mastering, we have released a tuition course titled: Mastering Now - The Complete Guide, which offers over 6 hours of mastering specific video tuition!
You can watch our video preview and learn more here.